Comments Off

on 15 Best Restaurants in the Florida Keys that Even the Locals Love
15 Best Restaurants in the Florida Keys that Even the Locals Love
Here are the best restaurants in the Florida Keys for you to choose from as recommended by the locals. TBH, you can't really go wrong!
Like most of Florida, Key West is a lesson in living the good life. Visitors flock to island city for watersports and stunning coral reef dives, only leaving water for its lively nightlife. Others, like me, have a blast wandering through the conch-style architecture and its pastel palette.
But do you know what really keeps people visiting the Conch Republic over and over again? Key lime pies, seafood fresh from the Gulf and a dab of Caribbean flavour.
From old paint-is-peeling shops to revamped eateries, these 15 best restaurants in Key West will keep your mouths busy, stomachs full!
Best Restaurants in the Florida Keys
Here are the best places to eat in the Florida Keys – you definitely won't go hungry!
1. Alabama Jack's, Key Largo
Don't look at the 'shabby shack' exterior and dismiss it – Alabama Jack's beach bar is a local favourite!
Sitting along Card Sound Road since 1950s, Alabama Jack's the only thing out on this alternate route from Key Largo to Key West. Coined one of Florida's best fish shacks, the open-air structure was built over water, just large enough for an impromptu dance floor.
It's famous for its conch fritters!
Catering to the casual and relaxed vibe of the place, expect steamed shrimps alongside burgers and fish sandwiches. There's plenty of beer to wash down the comfort food too.
2. Snappers, Key Largo
Like its name suggests, Snappers in Key Largo is all about fresh sea catches. Founded in 1989, it's an old-school restaurant and bar with indoor seating and an outdoor deck. Why visit? Every Sunday is celebrated with a brunch featuring live jazz.
What I love about the menu is the sheer variety!
Sample their smoked fish spread and Applewood-smoked bacon wrapped scallops to start with; their mains include grilled filets, lobster tails and specialty tacos. You can even bring your own catch and have it prepped in several ways – beer battered, char-grilled, sautéed and baked.
3. No Name Pub, Big Pine Key
For a pub with no name, it sure has a big reputation. Off-the-track, eccentric and literally loaded with money, this funky bait-and-tackle shop turned eatery is a brilliant story. The coolest thing about it is how every visitor contributes $1 to the interior!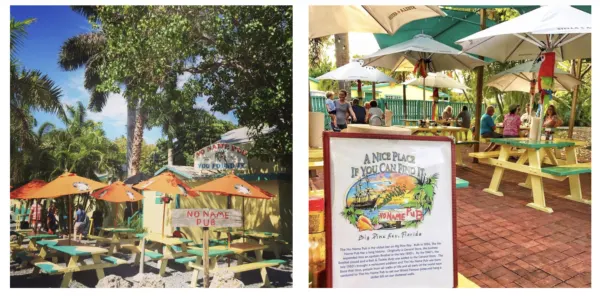 Literally every surface is covered with dollar bills – imagine a dollar bill ceiling, every piece carrying messages, names and doodles.
While the prices are a tad high for its casual menu, the portions don't disappoint. The pizzas, nachos and seafood plates attract families, while the stacked BBQ Pork Sandwich lure in hungry tourists.
4. Barnacle Barney's, Marathon
Tucked away behind a resort is Barnacle Barney's, which really expresses itself as a tiki bar and grill!
Waterside, featuring hammocks, tiki torches, palm trees and other island feels; you don't want to miss out on its ambiance. Best yet, the view is amazing – catch the Gulf of Mexico over the docks!
The menu serves your typical American pub and diner food. Expect standard breakfast sets, burgers, roll ups and a standout: its mahi mahi. The fresh fish fry is all-you-can-eat on Friday nights.
5. Island Fish Company, Marathon
Another Key West best is the waterside Island Fish Company, featuring the classic tiki bar and fresh seafood combo. Visit for the spectacular ocean views and their extended outdoor seating! There are benches right up against a small pier. Attached is a gift shop with original artwork and the restaurant's very own merch.
Happy Hour will net you frozen cocktails and beer on tap everyday but their breakfast treats you to homemade buttermilk pancakes, made-to-order sandwiches, poached egg benedicts and other comfort goods. Lunch and dinner is seafood based; think raw bar, crab claws, seafood tower, fish dips and Caribbean specials.
6. Hogfish Bar and Grill, Key West
Hogfish Grill is hands down one of the best restaurants in Key West! Locals love the old Key West flavor of this locally owned shop – no hype, just panoramic waterfront views, outdoor dining, strong drinks and fresh seafood. It's parked literally on the docks. It's full of character.
The chef's recommendations blend seafood and Mexican goodies; mixed ceviche, cheese-heaped nachos, conch and grouper, crab cakes and battered wings. Of course, you have to try their house specialty – fried hogfish served on fresh Cuban bread.
7. BO's, Key West
BO's Fish Wagon looks like a shack that had fallen apart… because it had. True to the owner's "no rules, just food" philosophy, the food truck-turned-eatery had survived several hurricanes and whimsical patch ups. Visitors come for budget eats and casual dress; they stay for its character and flavour.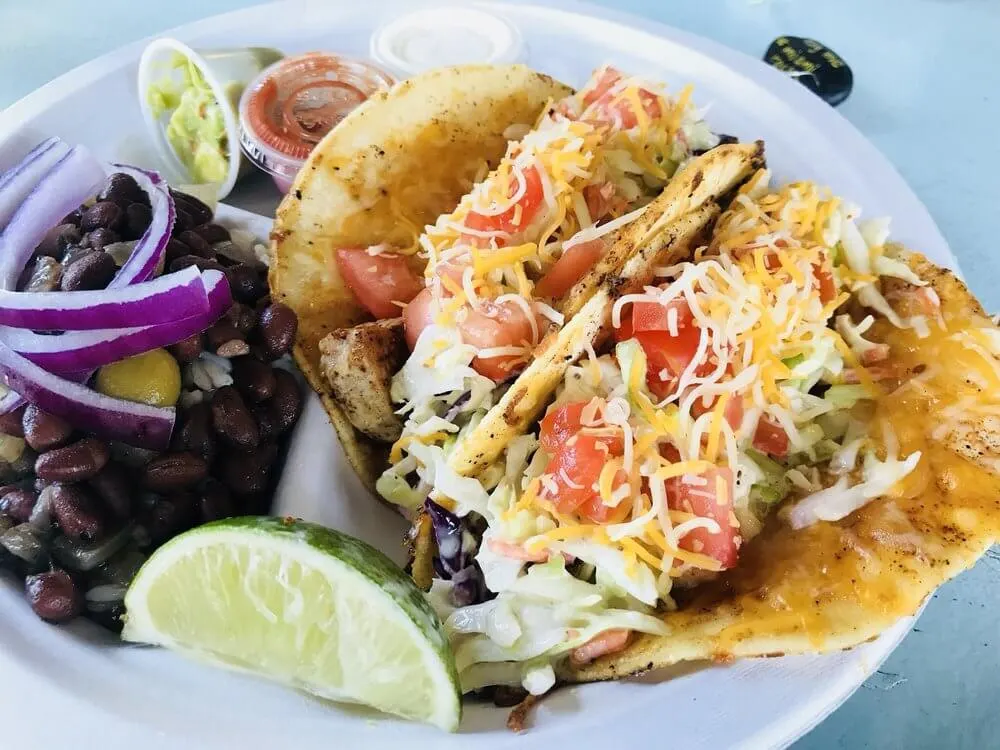 Locals have long declared the menu to boast the best fish sandwiches and conch fritters in Key West. Expect fast food alongside its most famous item. It's cash only so line your pockets with change!